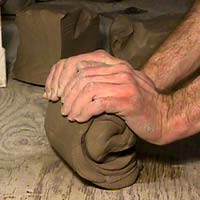 Wedging
The transition from Art student to production potter was difficult. Sitting at a potters wheel for several hours a day, every day, had me dreaming about throwing. I would wake up in the morning, with a sense of accomplishment for a great day's work, only to realize I had dreamed about making pots that still needed made.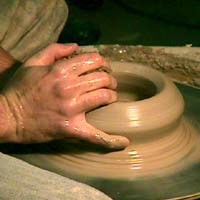 Throwing
Throwing is a very peculiar process to learn. Just the first step of squeezing and centering a soft lump of spinning clay, can be very difficult to do. Once you manage to center the clay, you work with one hand inside, and the other outside the pot. As it spins in your hands, you pinch the wall thinner and pull upwards.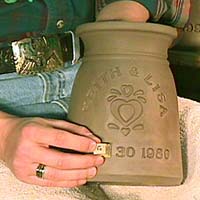 Stamping
This pulling of the clay is unlike any other activity. You must develop a new coordination as you learn to throw.
Throwing is only one of several steps in our process. They run in two stages: wet and dry. Each has their own clock. The wet stage is: wedging, kneading clay balls for the potter; throwing, shaping a spinning piece of clay on a potters wheel;
stamping
, our one letter at a time decoration process; and
handling
, the attaching, stretching, and shaping of a handle.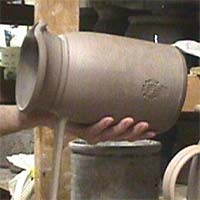 Handling
Each step can only be done as the clay is ready. Too hard, or soft, and the piece is no good. The dry stage is two firings: the 1,800� F bisque and 2,400� F glaze. The bisque firing fuses the fragile dry clay so it is no longer water soluble, but leaves it porous enough to absorb a coating of glaze.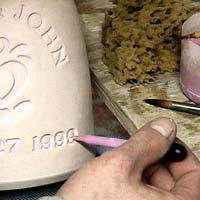 Coblating
Each bisqued piece is
cobalted
,the painting of the letters, logos, and lines; and
glazed
,the application of raw glaze. The final step, the glaze firing,turns the piece into a virtual glass coated rock.
The bisque firing is simple.
If it is dry, the pot survives;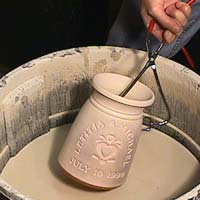 Glazing
otherwise, it explodes when trapped moisture turns into steam. The glaze firing is very precise. When you restrict the air supply of the gas burners at high enough temperatures, the fuel will fuse with the molecular oxygen in the clay and glaze. Carbon changes a clear glaze on a tan pot, to a gray glaze on a brown pot. Establishing a consistent atmosphere and even temperature distribution is vital.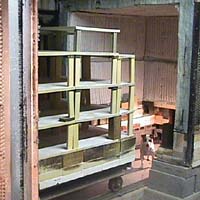 K
iln
Kiln
design, and firing procedure are key to both firings. If you do not follow the clay's clock in either stage, all efforts are lost.
This process has not varied since our first load in 1976. If you sit an original piece next to a current piece, there is a difference in quality, but not in the way they were made.