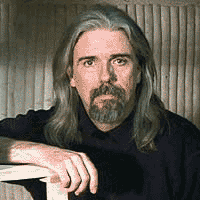 Walt Zotter the Potter
There is no great mystery to why I'm a potter, it's fun. I work the way I do because my father showed me that if you work with pride and persistence, you could even beat a massive stroke.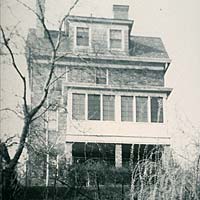 The house I grew up in.
It doesn't matter how difficult a task is if you can see the easiest way to do it right. I run my business the way I do because my family taught me the strengths of working as a team.
I grew up in a big house, with one sister and four brothers. Jo Ann was the first child and had all my parents' love until four brothers arrived, in only four and a half years.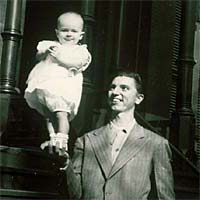 Jo Ann
We got the third floor. Our parents would only respond to the sounds of a head hitting the floor or breaking glass. We were very competitive, always trying to out do each other. My favorite prank was dumping a bucket of water on a brother in the side yard, preferably Randy (and only once dad), from four stories high. I could soak the targeted brother and close the screen before he had a chance to look up. I would run down to the first floor and sit in front of the TV before he ever got in the house. It was good cover to have a half-eaten sandwich in front of me, so it looked like I really had been sitting there. Randy was the oldest brother, so he let the rest of us pick on him with only mild reactions. He led the way then, and still does today.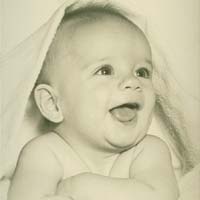 John
The big surprise in the family was when baby brother John was born. I think most babies are funny looking until they're two. Not John, he was the cutest baby ever born. He was a small kid who woke up one day with big hands and feet then outgrew all his older brothers. My other brothers are Paul, a father from the same mold that cast dad, and Craig, the most competitive of us all.
With six kids and an eight-bedroom house, you can imagine how busy my mother was. One day while we were all watching TV, mother suggested for the zillionth time that we knock down the wall separating the living and dining rooms to make it one big room.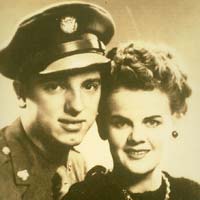 Our parents
Half-heartedly dad said okay. It turned out mother had a hammer behind her back. She turned around, whacked the plaster, said get to work, and walked out of the room. Dad told Randy to get the tools, and the wall came tumbling down. You can see which side of the family gave us our sense of humor. She sure needed it to put up with us.
The best of us isn't a brother, it was our sister. She was mother's first born, and her only daughter. She quite lovingly allowed the steamroller brotherhood to take over the family.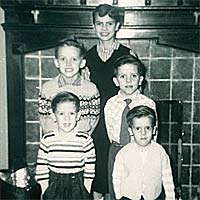 Jo Ann & the four brothers
She and her husband Walter bought my first potters wheel. Although sadly shortened, her life lived far more grace and loving friendships, than anyone could hope for in the longest lifetime. Well after our loss, Walter has remained our family. His personal support helped important changes procede when everything was falling in place.
Even though the four brothers are in our forties, and the big house is long gone; when we get together we are still on that third floor. It's a place my workers have seen through me. The rules I lived then, I employ now. Give everyone enough room to be themselves, and they will become a team.