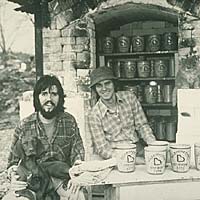 When I graduated from high school, I had no interest or training in Art. During my sophomore year in college I realized the only class I attended faithfully was Art History; so I met with my professor. After a brief discussion, he gave me a tour of the Art Department. To my surprise, he introduced me as a new Art major. I figured I would go along with it, and then disappear; but when I saw someone throwing a pot, I decided to change my major from Business to Art. The first time I said my last name in pottery class, someone called me Zotter the Potter�.
Shortly after college, I started making pottery reminiscent of the traditional salt-glazed stoneware made in 19th century Southwestern Pennsylvania. The initial pieces celebrated our nation's 200th birthday. They were decorated with Bi-centennial 1976, or a town name with the year it was founded. After the fireworks passed, I wanted to see if the pots were selling for their Bi-centennial, or historical appeal. So, along with my brother Randy, we set up The Zotter Pottery in Eighty Four, Pennsylvania. We had a 20'x 65' wing of an old lumber company wedged between a flood prone stream and noisy railroad track.
The first kiln sat outside our wooden building. We built bedroom lofts in the studio and bought a house trailer for its kitchen and bathroom. We expanded the line, and started using our hand-carved stamps like the heart and pineapple. The response was immediate. We started selling pots to stores throughout the country. Randy moved on in 1979, but I remained in Eighty Four, through 1987. After two brief relocations, I moved the production to our current Pittsburgh's South Side site in late 1991. Once again, Randy helped get things running through 1993. Up to this point, the pottery was wholesaled to small retail stores. Even though we had sold pieces with over 2,000 town names, in all 50 states, selling to small stores had very clear drawbacks. Most importantly, we were unable to get any feedback from their customers.
This started to change when The Leggett Department Stores picked up my line, in 1991. They are located throughout the Mid-Atlantic States. They asked me to give pottery demonstrations in their stores. I was finally able to meet customers. I set up my potters wheel and threw the same shape all day. The unexpected speed and consistency of production level throwing is a real attention getter. The response was most rewarding, with the few people who ordered personalized pieces having the nicest things to say.
So, in 1994 I set up ZTP Inc. and started promoting personalized pieces. This line was picked up by our first catalog in 1995. We added additional catalogs, and eventually phased out the stores. Switching from town commemorative to one of a kind pieces took time, but it brought us closer to our customers.
The biggest change yet, is our ability to reach you. From the isolation of middlemen, to direct online sales. We are now only an e-mail away. Let us know what you think of our pottery and website. We will enjoy hearing from you.