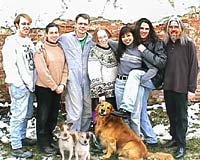 The Crew
Group #4 has changed ZTP Inc. Starting back in 1995, it made our transition from our town commemorative line to one of a kind personalized pieces possible. Group #4 started with Jocelyn, Scott, Matt, Johanna, Keith, Sarina, and me. I oversee production, throw, handle, glaze and fire. It's to the point that everyone's so productive, my oversight role looks idle. That's fine with me. I call it the "invisible work". I keep everything in sync with the clay and kiln clocks. Marketing is invisible work too. In the last seven years Jocelyn and I have completely revamped our sales structure.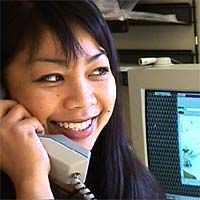 Jocelyn
Jocelyn manages operations, and plays a key role in marketing and product development. She was born in the Philippines, raised in Florida, and attended college in Pittsburgh. Her ability to handle several issues at once, and define them into an easily followed chronology, is vital to operations. Her clear devotion to her job, and the staff, makes work a lot easier for all of us. She is the most enjoyable person I have ever worked with. There are a lot of misconceptions about owning a business. This is very clear when you have owned one for over twenty years. How well operations run, is one of the most important issues. Her day-to-day managerial skills enable our long range plans to move ahead smoothly. Giving Jocelyn free reign to organize is one of the smartest decisions I have ever made.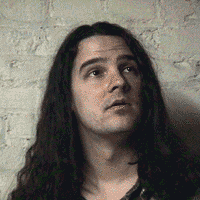 Scott.
Scott was hired shortly after Jocelyn. You can't miss him. He's part Sioux, and has the hair and eyes to prove it. He's a rock and roller. His old songs are loud, wild, and crazy, with his new songs showing sense emerging from it all. He writes songs with lyrics worth hearing and weds them to music that can be plugged in, or unplugged. He's a painter. If you look at his paintings, you can see the strength of his Catholic beliefs; he's even led me back. He's comical. His sense of humor sets the mood for all of us. If my mother told me I had a sixth brother hidden from the rest of us, I would have no trouble believing it is Scott. Work without Scott is unimaginable, even though he wrecked my car.
Matt
Matt is an extraterrestrial...er...I mean he handles all the cobalting and shipping. His schooling was in special effects. He spends all year gathering discards, and assembles them into...well this year it was Robot, from the original Lost in Space TV show. It was his Halloween costume. He climbed inside, buzzed around, and kept warning of danger. It won a hot tub in a costume competition. Unlike Jocelyn, Scott, and me, he did not have a large family of loving brothers and sisters. When he first started working for me, he said he had always wondered what a big family was like, he knows now.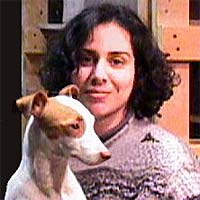 Johanna
Johanna is a spy from Cuba. If her report on American businesses is based on my business, she'll be recalled. Actually, she is a stamper with a varied art and art education background. It is fun learning how different cultures can be. They vary in ways you never expect. We can always tell we are too American for her when she puts on her headphones.
Keith
Keith does just about everything, but mostly throws pots. He caught the pottery bug the same way I did, in college. It seems the faster you learn, the easier it is to get hooked. With our recent expansion, we are able to increase production. As we grow, his past duties as an instructor at a local crafts guild will make it easy for him to help me with running the production. He too writes and sings songs. Acoustical music, with lyrics that actually tell a story.
The house I grew up in.
Sarina helped with many of the day to day office duties while Jocelyn was redesigning the business side of the production. Sarina was a great help.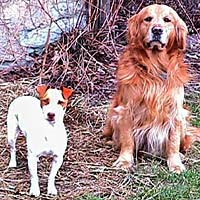 Wilma & Grendel
Wilma and Grendel are the "say hi to me first" dogs who greet everyone entering the buildings. Wilma is my Jack Russell, she's two and rules. If she were anyone else's dog, she wouldn't be allowed to stay. Grendel is Jocelyn's Golden Retriever. He's big and lovable, and lets Wilma "Jack Russell" him all day long. There is a large office building across the street. The dogs have a lot of friends walking to and from work. Ellen can't get by the door without them knowing. She always has treats for them. More people know the dogs' names than our own. Wilma and Grendel fit right in.
Group four changes, especially during the Holiday season. We have several people who help when the Christmas rush starts in October. Familiar faces like Mark, who moved from full time three years ago, and Paige, a lady we look forward to seeing each Holiday rush. This year we added three new seasonal workers; Elaine, Jamie and Brian. They were a big help. Especially Jamie, he was a wedging monster.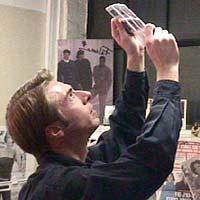 Tom
Although there have been several other employees, two can not be overlooked, Tom and Michael.
Tom
was the first person Jocelyn hired. He left three years later to help manage a friend's talent agency. I'm not big on astrology, but I know enough to see Tom is an Aries. Sometimes you want to hug him, other times you want to hit him with a stick, a big stick. I've been lucky in the hiring game. Some truly exceptional people, like Tom, have helped me. Fortunately when he left, his friendship stayed. Tom's keen eye for design and promotion will always be helpful. He owns Wrighteous, a Jack Russell terrier, an amazing little dog.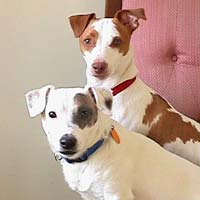 Wilma & Wrighteous
They are one and the same. We are mating Wilma and Wrighteous this Summer, Tom and Iare in for a show.
It is impossible to overlook Michael. He barely spoke the first months he worked for us. At first, he made odd noises, usually of a musical nature. Once he started talking, we realized he's nuts! After graduating from college, he got a great job as a high school music director, in Las Vegas. We miss him.
Jocelyn & Jayne
Last and by every account not least is Jayne, Jocelyn's sister. They are sisters in every way. Jayne is a data base whiz for one of the big corporations. She's helping us with our system. Scott's song "Joy", about Jocelyn and Jayne, says it all. Working with them, to sell our old fashioned pottery in this high-tech world is a great joy.
Each group developed their own dynamics, and played an important role, especially group four. They have worked during fundamental changes to the business. Switching from the town commemorative to personalized line, while revamping our sales structure, was hectic. Jocelyn and the staff made it easy and fun. Group four is Zotter the Potter� .